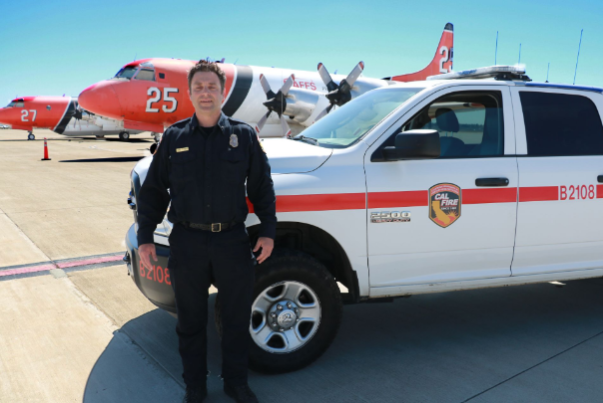 Shem Hawkins
Battalion Chief / Air Tactical Group Supervisor
,
CAL FIRE
United States
I am the Battalion Chief assigned to command the Chico Air Attack Base. The Air Attack Base is located at the Chico Airport and has one air tanker (delivers fire retardant to the fireline) and one air attack (command and control aircraft) assigned.
My career began as a volunteer firefighter in Magalia in 1992, and I was hired as a seasonal firefighter for CAL FIRE in the Nevada-Yuba-Placer Unit later in the year. While attending UC Davis, I worked as a student firefighter, graduating in 1998 with a degree in Civil Engineering. Shortly afterward, I earned my certification as a paramedic and promoted to Limited Term Engineer with CAL FIRE in the Nevada-Yuba- Placer Unit.
In 2001, I promoted to permanent Fire Apparatus Engineer in the Butte Unit and worked in Battalions 4 and 5. After several years, I transferred to work as a Paramedic in the community of Lincoln in the Nevada-Yuba-Placer Unit. That assignment entailed serving on engines and ladder trucks working in a blend of urban and rural environments. I then returned to the Butte Unit as a Fire Captain assigned to the Air Attack Base.
In 2014, I promoted to the San Mateo-Santa Cruz Unit as a Field Battalion Chief. While in this position, I supervised several stations and participated in regional responses through a San Mateo County inter-agency boundary drop agreement that ensured the closest resources responded to emergencies, regardless of jurisdiction. I'm a qualified Air Operations Branch Director and a current Unmanned Aerial Systems Pilot.